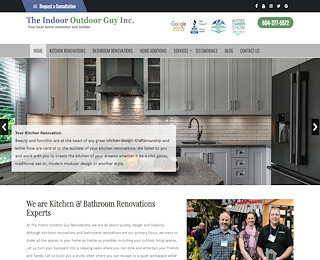 If you live in the Vancouver area and have a clogged or failing drain tile system, the professionals at The Indoor Outdoor Guy Renovations wants to help you with one of their solutions for your individual needs. There are a number of reasons why a drain tile system can fail, however there are generally only two main reasons why you could be experiencing water seepage causing damage. Your drain tile system may be clogged, or it may be damaged.
Aside from hiring a plumber who can use a high pressure jet and camera to flush out your drain tile system, you're options are repair or replacement of the drain tile system. Flushing out the system is the cheapest method available, however experience shows that it is rarely effective and often must be repeated every few years if it does work for you the first time. Flushing out the system will not fix a collapse or correct negative slope issues.
Repair of any broken, blocked or clogged sections, if they can be effectively located, is the next option. A camera inspection can often help to locate the broken or blocked sections of drain pipe that will need to be dug up and then repaired. If sections are too damaged, a camera will often not work to locate blockage or damage, or my have to work piece by piece as repairs are made to get through the entire system. This option must be weighed against the costs of a complete replacement to determine which will be cheaper in the long run.
A complete replacement of the drain tile system is the most effective option and will give your home a completely new system which will use modern and more durable materials and a redesigned system that should last the homeowner even longer than the original system.
The drain tile experts at The Indoor Outdoor Guy Renovations are the professionals you need to speak with to help you best determine the course of action needed on your home. When you call them at 604-277-5572, you can speak with one of their skilled experts who can set up a consultation with you to find out what your drain tile needs are. The Indoor Outdoor Guy understands that you don't want to waste time or money, and you'll be treated like the valuable customer that you are.
When considering who to call in Vancouver for your drain tile needs, consider the company that brings the most experience to the table- the company that wants to save you, the homeowner, the most money possible and provide the highest quality of service possible. The Indoor Outdoor Guy Renovations doesn't just say they care about their clients- they prove it. Their strong and growing satisfied client base will convince you that you've called the right company. Why not make that call, at 604-277-5572, to learn more about their drain tile solutions and what they can do for your home?
Drain Tile Vancouver