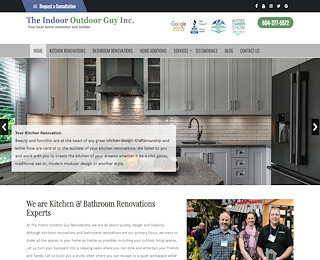 No matter what your home renovations needs are, The Indoor Outdoor Guys Renovations provides the type of service you're looking for, including:
- Home additions on both main and second floors
- Kitchen renovations designed to beautify and restructure the floor space
- Bathroom renovations that can make more room with what you already have or completely redesign
- Outdoor living spaces including decks, pergolas and cabanas
- Secondary buildings such as sheds and studios
- And much, much more
If a lifestyle change or a growing family has caused you to consider a home addition, let The Indoor Outdoor Guy sit down with you and discuss your changing needs and determine whether you need a larger kitchen, an additional bathroom or an additional family room to accommodate your family. While additions require several steps to accomplish, they all start the same way- with an initial consultation with the homeowner to find out what you need the addition to provide. 
Perhaps a one or two-room renovation is more to your interest, in which case a kitchen or bathroom renovation may be what you're considering. The Indoor Outdoor Guy has many clients due to their exceptionally high standards and their service-oriented approach to kitchen design and construction. With regard to home improvement projects, kitchens require more attention to detail and design coordination than any other room in the home. The Indoor Outdoor Guy's expert design team can coordinate the different material finishes and colors to create the kitchen of your dreams.
The Indoor Outdoor Guy offers both design and construction services for bathrooms in Vancouver. From a simple yet visually effective bathroom update to a more substantial design and build project and everything in between, their professionals with work closely with you to determine what would best suit your needs. A bathroom update is the most cost-effective renovation, since the new fixtures will remain in the same places as the old were located. This eliminates the need for plumbing and electrical work. A full-scale design and build project will move fixture locations around to maximize space and create a whole new appearance.
When you visit The Indoor Outdoor Guy website at indooroutdoorguy.ca, you will be able to get a greater understanding of the services that they provide in home renovations. You can also look at renovations projects that the company has provided to the Vancouver and surrounding areas. From their website, you can set up a consultation that will further enable you to make an informed decision as to what your individual needs are and how they can help you to accomplish those goals.
One phone call is all that's needed to convince you that you've called the right place- the company with the experience and know-how to transform your one-room renovation project or home addition project into reality. When you make the call to The Indoor Outdoor Guy at 604-277-5572, their experts will answer all of your questions. When your home renovations projects are complete, you'll wonder why it took you so long to make the call.
Home Renovations Vancouver